Market Map
Hover your cursor over the map below to see where each vendor is located in the market. Click to view more information on the vendor.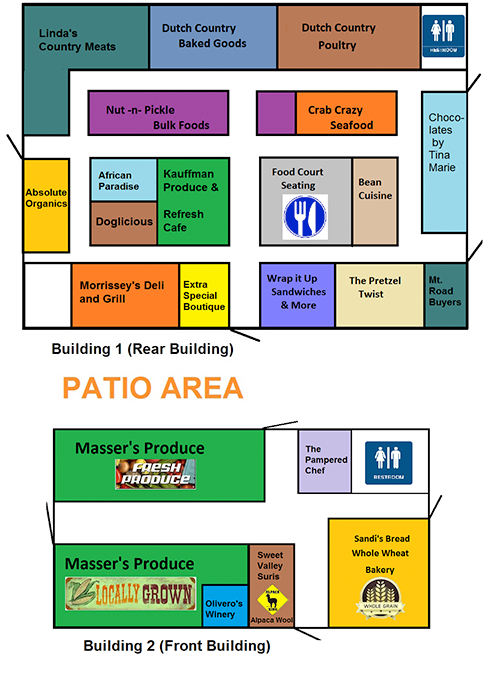 Floral Décor

Fresh flowers, loose or in an arrangement.
Sweet Valley Suris Alpaca Goods

Alpaca wool and goods.
Sandi's Breads

Whole wheat bakery, Grab-A-nola bars.
The Pretzel Twist

Hot, Central PA famous Pretzels. Salty and sweet selections. Fresh squeezed lemon, lime, and strawberry-ades.
Wrap It Up -n- More!

Wraps, soup and more. Various soft drinks.
Kauffman's Produce & Refresh Cafe
Morrissey's Deli and Catering
Rolling Pastures

Ice cream. Raw milk. Organic cheeses, ice cream, grass fed beef, yogurt.
Rae Rae's Doggie Deli

Pet Treats.
Linda's Country Meats

Meat selections.
Dutch Country Baked Goods

Fresh made pies, cakes, donuts and Amish fruit breads.
Dutch Country Poultry

Rotisserie chicken smoked ribs, dinner plates. All kinds of fresh poultry.
Bean Cuisine

Gourmet coffee and teas, specialty hot drinks.
Crab Crazy

Seafood omelets, fish sandwiches, seafood specialties. A wide variety of seafood products.
Nut n' Pickle

Specialty bottled soft drinks – Boylean drinks. Bulk foods, spices and snacks.
Extra Special

Custom jewelry, gifts, specialty products.
Chocolates by Tina Marie

Delectable chocolates, specialty treats and retro candies.
Masser's Produce

All kinds of local produce!